Reaching the unreachable
A clean water facility has been inaugurated by senior government officials and the ambassador of India, in a remote area of Juba.
It's a neighbourhood on the edge of South Sudan's capital that may not feature on its official map. Lokonyo village (near Jobari village where we did some previous reporting), is located to the north-west of Juba, somewhere between Gurei and Luri. It's a recent extension of Juba, where residents have settled over the past decade after they left their regions of origin. Most of them survive through subsistence farming, and they do so on plots of land loaned to them by local chiefs.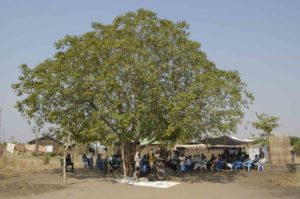 Guests gathered at the ceremony's venue, Lokonyo village, Juba, South Sudan, 14 January 2019
Lokonyo residents gathered for a special ceremony on Monday 14 January 2019: the inauguration of a new borehole equipped with a hand-pump, that will provide drinking water to around 1000 residents. Sister Jeni Maila, the country director of the Daughters of Mary Immaculate (DMI) in South Sudan, was busy welcoming guests to the venue – a large tree in the shade of which plastic chairs had been arranged – and making sure that the ceremony would stick to schedule. High profile guests were in attendance, including South Sudan's Minister of Agriculture Mr. Onyoti Adigo Nyikwec and the Ambassador of India S.D. Moorthy.
Fulfilled promise
Ambassador Moorthy is the one whom Sr. Jeni Maila and her DMI colleagues convinced of the need for a borehole, when they took him, last December, on a visit to the farmers they support in this part of Juba. He witnessed the lack of access to clean drinking water and decided to help. "I promised a borehole would be done after one month, and after one month, this promise has been fulfilled" he proudly stated during the ceremony. The borehole was funded and built by Jit Mart and Jadang, two Indian companies operating in South Sudan.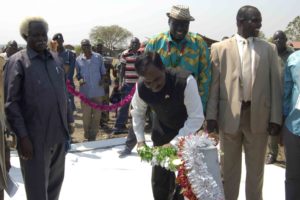 Ambassador Moorthy and Minister Onyoti try out the newly opened water pump, Lokonyo village, 14 January 2019.
In these suburban areas of the capital where services are scarce and where most residents have no employment opportunity, DMI implements promising agricultural projects with the support of the United Nation's Food and Agricultural Organisation (FAO).
Since 2016, DMI has helped establish 60 farmers associations in villages around Juba. Members of these associations receive trainings, seeds and agricultural tools. Some villages also benefit from pedal pumps to irrigate their fields. According to the FAO, the average plot size stagnated at around 2000m2 since the start of the project in 2016. But the proportion of farmers able to save money after taking care of their family's basic needs increased from 51% to 92%. It demonstrates that DMI's support has increased the farms' productivity.
A tribute to the hard working farmers
Mr. Onyoti Adigo, the Minister of Agriculture, congratulated the people of Lokonyo and surrounding villages for "cultivating and feeding people". He stressed the importance of maintaining peace for such development activities to expand. He announced he would donate two tractors to DMI, to support the community farming projects. He concluded by a piece of advice: "Don't take too much alcohol. And don't leave your wife working alone. If you work, you will have love in your family".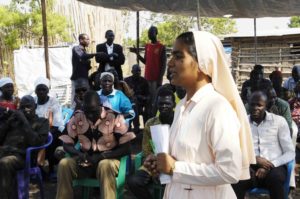 Sister Jeni Maila (DMI) addressing the guests during the water facility inauguration ceremony, Lokonyo village, 14 January 2019.
"We are reaching the unreachable" declared Sr. Jeni Maila during the inauguration. She and her colleagues have indeed reached several vulnerable communities of Juba. They strengthen their livelihoods and their autonomy through DMI's programs. A quiet, but impactful commitment.
Text and images: Florence Miettaux
You may want to visit Gurei Station on the interactive map.